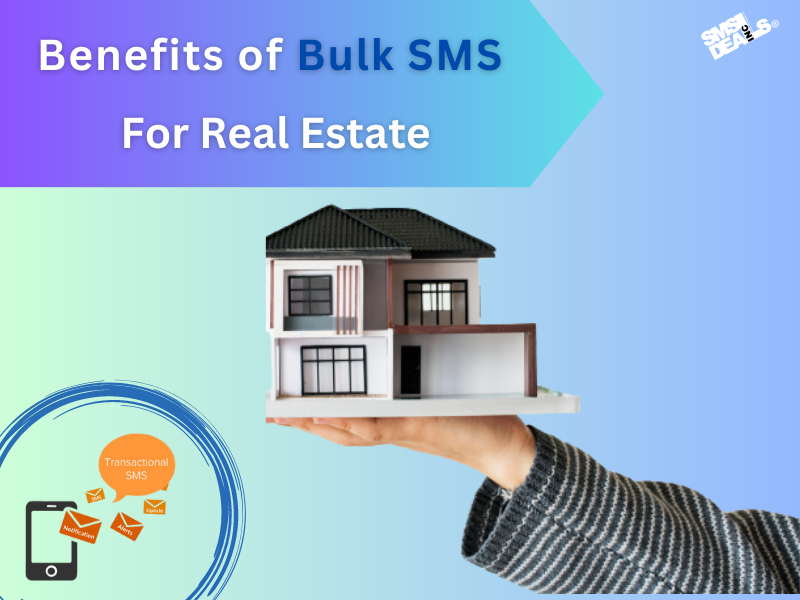 Utilizing Bulk SMS Service for Real Estate Sector Growth in India
13 Apr-2023
- By
Admin
1859
Effective communication plays a crucial role in the success of businesses across industries. Real estate can benefit greatly from using bulk SMS services as a powerful marketing and communication tool; this article explores various strategies the Indian real estate sector could implement with bulk SMS to enhance customer engagement, drive sales, and streamline operations.
1. Instant and Targeted Communication: Bulk SMS India service allows real estate businesses to quickly send instantaneous, targeted communication to multiple recipients at the same time. Personalized texting based on customer preferences, location or stage in the buying process allows companies to deliver messages with great relevance to potential buyers; agents can send property updates, special offers, event invitations or appointment reminders instantly, keeping their prospects informed while engaging and informing.
2. Customer Acquisition and Generating Leads: Bulk SMS service can be an invaluable lead generation and customer acquisition tool in real estate. By employing database marketing and lead management systems, real estate firms can capture potential buyers' contact info to build a database and send targeted SMS campaigns that drive interest, increase traffic to property websites, encourage buyers to inquire about properties available for sale or schedule site visits.
3. Promotion of New Real Estate Projects: Real estate companies can use bulk SMS services provider in India to effectively promote new projects and listings by sending timely updates and notifications directly to target audiences, creating awareness, curiosity, and anticipation among potential buyers. Such personalized communication helps expand both their visibility and market reach of new projects.
4. Appointment Reminders and Follow-ups: Bulk SMS service offers an effective means for automating appointment reminders and follow-ups in real estate sales transactions, helping convert leads into customers more quickly and reducing no-shows thereby improving customer satisfaction and increasing conversion rates. It can be used to send automated appointment confirmations as well as reminders. Ultimately this contributes to improved conversion rates as no-show rates decrease and professionalism and personalized customer care improve.
5. Customer Relationship Management (CRM): Bulk SMS services in Delhi can be seamlessly integrated with robust CRM systems to effectively manage customer relationships. Real estate businesses can send personalized texts directly to existing clients regarding property updates, new investment opportunities, or exclusive offers - an effective way for real estate businesses to maintain long-term relationships, increase customer loyalty and boost repeat business and referrals.
6. Internal Communications and Operations: Bulk SMS service can not only facilitate external communications, but can also streamline internal operations in real estate agencies. Real estate teams can use SMS notifications to keep agents, property managers, and team members updated about updates, alerts, or task reminders; this helps coordinate efforts efficiently while streamlining workflow within an organization.
Bulk SMS service in India presents India's real estate industry with an invaluable opportunity to enhance customer engagement, increase sales, and streamline operations. Through targeted and personalized communication channels, real estate firms can effectively reach potential buyers, promote new projects, nurture leads and provide excellent customer service. Integrating bulk SMS with CRM systems and internal operations further optimize efficiency and coordination - and embrace this powerful marketing tool for long-term success in an otherwise highly competitive market!