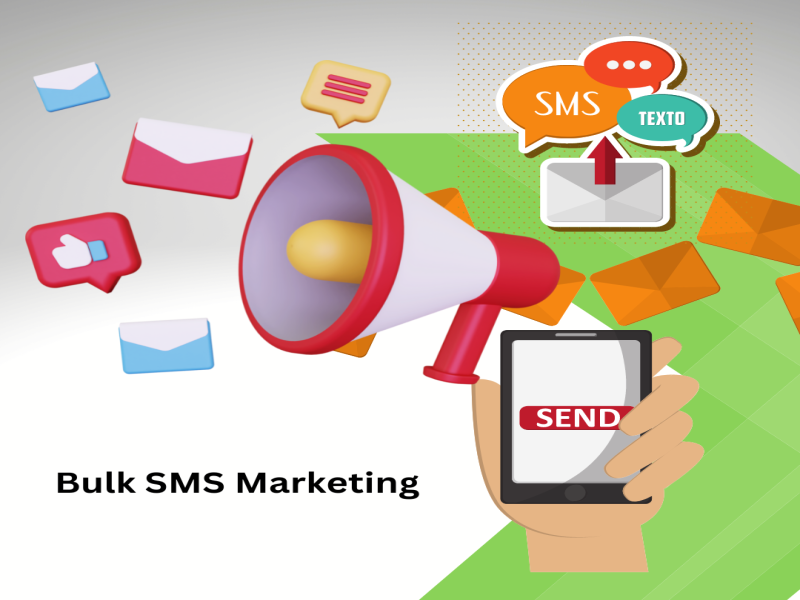 How Can the Education Sector Benefit from Bulk SMS Service in India?
02 Aug-2023
- By
Admin
3344
What is Bulk SMS Service and How Much Effective it is?
Bulk SMS marketing is an extremely cost-effective and efficient marketing technique, employing mass SMS texts to reach specific target audiences. Businesses of all sizes have taken to using bulk SMS marketing due to its affordability, wide reach, and instant delivery - it allows businesses to connect directly with their customers, prospects or target market via mobile phones.
Bulk SMS marketing stands out as an effective strategy due to its impressive open and read rates. SMS messages have significantly higher open rates compared to other marketing channels, ensuring your message reaches more recipients quickly. Furthermore, SMS messages tend to be read within minutes after being delivered for instant engagement and action.
Bulk SMS marketing also allows businesses to tailor messages specifically to specific customer segments by using customer data and segmentation techniques to send targeted, pertinent messages that increase engagement and conversion rates, such as personalized offers, promotions or important updates that directly reach out to customers - building customer loyalty while driving sales growth.
Bulk SMS marketing provides businesses with an effective and immediate method for communicating time-sensitive information quickly and efficiently, such as flash sales, limited-time offers, event reminders or order updates. Businesses can immediately reach their customers with pertinent updates that create a sense of urgency among consumers that leads them into immediate action.
Bulk SMS marketing provides businesses with an efficient and cost-effective means to promote their products or services. In comparison with traditional advertising channels like print or broadcast media, SMS marketing is far more budget-friendly while producing impressive results. Businesses can track the success of SMS campaigns using delivery reports and response rates; optimizing marketing strategies while realizing higher returns on investments.
Bulk SMS India provides businesses with an effective tool for engaging customers, driving sales and building brand loyalty. With high open rates, instant delivery options, personalization features and cost-efficiency at its core, bulk SMS is an invaluable marketing channel in today's mobile-centric world. By harnessing its potential businesses can effectively reach their target audiences while sending impactful messages that meet marketing goals.
Education sector can benefit in various ways from bulk SMS services:
1. Communication with Students: Bulk SMS services enable educational institutions to effectively and quickly interact with their students, providing essential updates such as exams schedules, class cancellations, timetable changes or forthcoming events through SMS in a timely and effective way.
2. Parent Communication: Bulk SMS services provider in India enable educational institutions to maintain effective communications with parents of their students. Schools can send updates about academic progress, attendance records and meetings as well as announcements that impact them directly, helping build stronger parent-school relationships while keeping all involved informed on what's happening with their education.
3. Admission and Enrollment: Bulk SMS service in India can help institutions reach out to prospective students and inform them about admission procedures, application deadlines, entrance exams and counseling sessions. Institutions can send reminders, updates and any necessary information directly to prospective students - making the admissions process simpler overall.
4. Fee Payment Reminders: Bulk SMS services can be invaluable tools in reminding parents or students regarding tuition fees, exam fees or any other outstanding payments - helping ensure timely payments while alleviating manual follow-up efforts.
5. Exam Results and Notifications: Institutions can leverage bulk SMS services to efficiently notify students about exam results, including individual scores and overall performance. In addition, SMS notifications can also be sent regarding exam schedules, venue changes, and any important updates related to examinations.
6. Emergency Alerts: Bulk SMS can quickly inform students, parents and staff members in emergency situations like campus closures, weather-related changes and any unforeseen events; thus ensuring their safety and well-being.
7. Event Promotion: Educational institutions often host various events such as seminars, workshops, cultural programs or guest lectures that require promotion through bulk SMS services such as invitations, reminders or event details sent directly to students, parents and other relevant stakeholders. Bulk SMS can be utilized for this purpose to spread the word.
By taking advantage of bulk SMS services, education institutions can increase communication efficiency, boost parent involvement, streamline administrative processes, and facilitate effective information dissemination. It is crucial that any such implementation be in compliance with applicable data protection and privacy regulations.