Rich Communication Services
Rich Communication Services (RCS) is a communications rule followed between mobile phone carriers as well as between the phone and carrier in the hope of replacing SMS messages by a text message system that is more sophisticated offers the ability to poll your phonebook (for the purpose of service discovery) and also allows for the transmission of during calls multimedia.
SMS
SMS has its limitations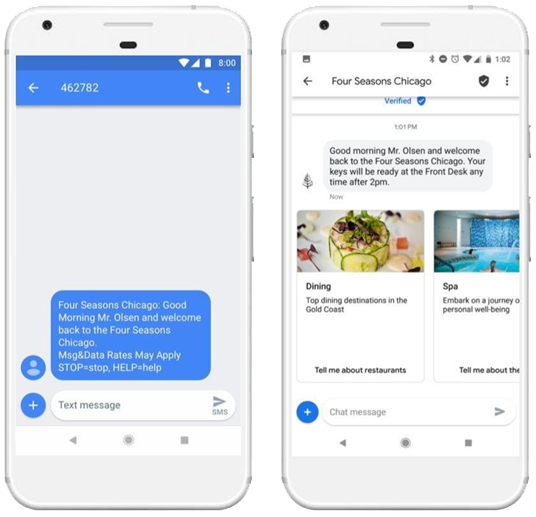 Benefits of Rich Communication Services over Normal Text Messaging is as follows
Rich Media Web features videos, forms GIFs, attachments, surveys, and attachments can be delivered directly to the user without the need of any application download or website.


Security and brand consistency. One disadvantage with SMS is the fact that users can't be sure that the person sending the message is who they claim they are. With RCS , the sender is confirmed, in addition, the CX is the same across all channels.


Helps in Better Customer Relationship - Because it's an intimate method of communicating, call centers stand greater chances of establishing or maintaining connections with their customers via the RCS. However, the risk is that customers might find your customer service efforts excessively intrusive, so it is essential to get their consent first. It is also advisable to ensure that your messages are concise and clear, and let users to select which platform they prefer to make use of.


Enhances the efficiency of chats in groups It is possible to share messages with group members, and other small details, such as indications of read receipts or indicators to indicate when users are typing messages are to be added.


As opposed to messenger apps and messaging applications, Rich Communication Services depend on direct connections with the SIM and also link to your phone number via a SIP/HTTP-based systems over the internet.


Customers appreciate the convenience, personalization, and trust that RCS provides The company RCS can be expected to provide safe one-click purchase, without needing to leave the room of conversation, or follow several steps to pay.


Customers are happier when there is a continuous line of communication with them. RCS assists companies in providing actual-time updates such as orders confirmations, product announcements and so on.