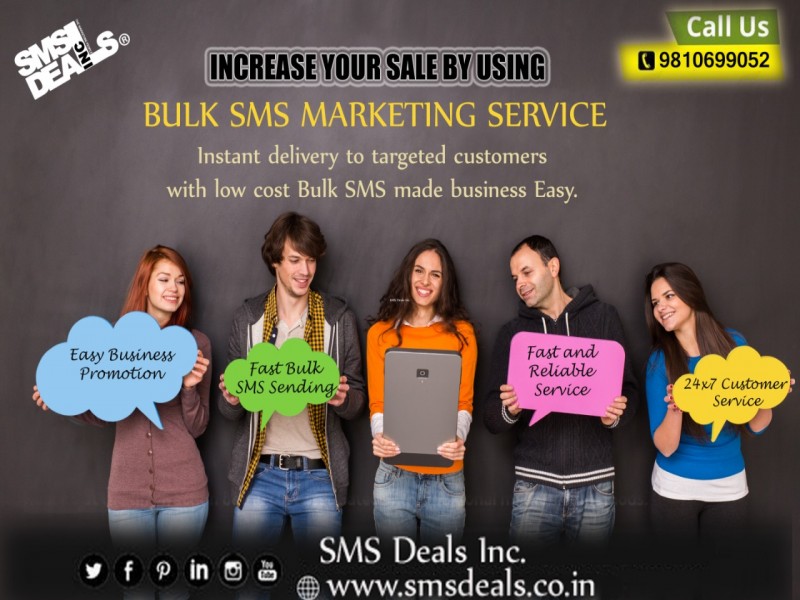 Simple Ways to Use Bulk SMS Marketing for Startups
15 Nov-2019
- By
Admin
2005
Nowadays, Bulk SMS marketing is becoming immensely important to give traction to your Business and Brand. The reasons are many but the main aim is simple- Bulk SMS is the most cost effective and one of the fastest method to reach out to maximum number of individuals or groups with your sales or service message. Moreover, the conversion rates of Bulk SMS are really high compared to other means of promotion which can fetch you good conversions and ultimately quality leads.
Bulk SMS Marketing
Bulk SMS is perfect medium to retarget your audience and Smsdeals gives perfect packages that are custom made to suit your needs. In less amount, you can reach out to your potential customers with your sales or promotional message. So no more worry of spending your hard earned money on other expensive methods to reach out to your audience, Bulk SMS marketing will to its part perfectly!
Apart from this Smsdeals gives you freedom to spend less and gain more as you can send really quick messages to any mobile number PAN India. Isn't it wonderful?
You can send two types of Bulk SMS to your Potential customers with this service:
Transactional SMS
Promotional SMS
Let us throw some light on both type of SMS's.
Transactional SMS are used to send the status of the product the client purchased and Promotional SMS are mainly used to retarget the audience who have already bought the product from your end and through this type of SMS service you can send them Coupons, Discount codes, Offers etc.
Not only this, SMSdeals brings a convenience of connecting to your suppliers, sales persons, team, colleagues, clients etc. with cheap bulk SMS service. Leave the worry of all technicalities related to sending bulk SMS to your clients on us and we will do the best to utilise this highly profitably service to give you best output.
Rely on us for the bestSms bulk packages and get the most out of your money. Undoubtedly, bulk SMS services provided by SMSdeals is the most cost-effective way of promoting services.