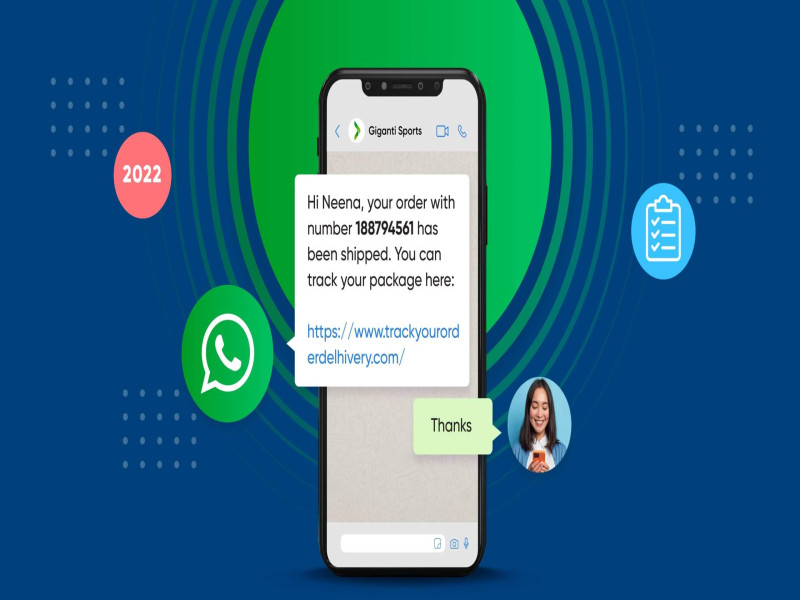 How is Business Initiated WhatsApp chatbot is becoming a wider solution for shopping carts?
28 Feb-2023
- By
Admin
305
Chatbots created by businesses and used to manage shopping carts are very popular because they provide a seamless and convenient way for customers and business to communicate with each other and make purchases. Businesses can integrate a chatbot to their WhatsApp business api account to provide 24-hour support to customers. This will improve customer experience.
Customers can browse products, place orders and make payments all from the familiar interface of WhatsApp. They can also track their shipment status using a chatbot. Chatbots are able to automate repetitive tasks that would otherwise need to be done by customer service representatives. This frees up time for more complicated and valuable activities.
Chatbots for shopping carts have another advantage: they allow businesses to reach a wider audience. This includes people who prefer messaging apps to email and phone. This is especially useful for companies targeting younger generations, who are more likely than others to use messaging apps regularly.
The use of WhatsApp chatbots by businesses to solve shopping cart problems is on the rise due to their ability to make shopping easy, personal, and efficient for customers. They also have the ability to reach a wider audience and help businesses save time while still reaching more people.
Chatbots that are initiated by businesses offer many benefits such as:
Chatbots offer 24/7 customer support, allowing customers to have a better experience.
Personalized experience: Chatbots use machine learning algorithms and natural language processing to understand customers' needs and offer personalized support.
Improved efficiency: Chatbots automate repetitive tasks which allows businesses to save time and money, allowing them more time for complex and valuable activities.
Wide reach WhatsApp has a large userbase, so businesses can reach a larger audience by integrating chatbots into their WhatsApp business accounts.
Increased sales - Chatbots make it easy for customers to shop and provide a seamless shopping experience that helps businesses increase their sales and revenue.
More data insights: Chatbots are able to collect and analyse customer preferences and behaviour, giving businesses valuable insight into their customers.
Cost-effectiveness - Chatbots are a cheaper option than hiring customer service representatives. This is especially true for small- and medium-sized businesses.
WhatsApp chatbots that are business-initiated can be used in many industries and businesses.
Ecommerce: Chatbots are a way for customers to shop online and make purchases, track their orders and pay.
Retail - Retailers can use chatbots for product recommendations, to answer customer questions, or to assist customers in-store with their purchases.
Healthcare - Healthcare providers can use chatbots for scheduling appointments, providing information about treatments and procedures, as well as answering general questions.
Finance - Financial institutions can use chatbots for account information, processing transactions, and financial advice and recommendations.
Hospitality - Hotels and resorts have the option to use chatbots for assistance with bookings, information about amenities, and general queries.
Transportation: Chatbots can be used by transportation companies such as airlines or ride-hailing service providers to help with flight and travel updates, book and cancel reservations, and answer general questions.
Education: Chatbots can be used by educational institutions to answer questions about enrolment, classes, schedules, and general information.
Government - Chatbots can be used by government agencies to answer questions about government processes, provide information about services and programs, help with applications and forms, and assist with general inquiries.
Business-initiated WhatsApp chatbots development are available in many industries, such as e-commerce and retail. They can also be used for finance, healthcare, tourism, education, transport, and education. Chatbots are a great tool for all businesses, regardless of size or type, who want to streamline their operations and improve customer service.